Introduction

:
Adopting four-leads guiding system ,with high strong vibration motor and using both compression of the upper and the bottom mould enhance the productivity and quality, at the same time can adapt to the different kinds of material for various blocks.

Main technical specification:
Molding pieces

390mm×190mm×190mm 4pcs/mold




390mm×240mm×190mm 3pcs/mold




390mm×120mm×190mm 6pcs/mold




240mm×115mm×53mm 21pcs/mold





(

Note

:

The mold according to your requirement

)

Molding cycle

35s/time

Vibration frequency





frequency

2800rpm

Productivity

2000-2500 pcs/day

(

count by quantity of per mold

)

Exciting power

28KN

Power

9.7KW

(

Total power in the next page

)

Vibration form

Platform vibration

Pallet size

850mm×460mm×40mm

(

30

)

mm
Structure: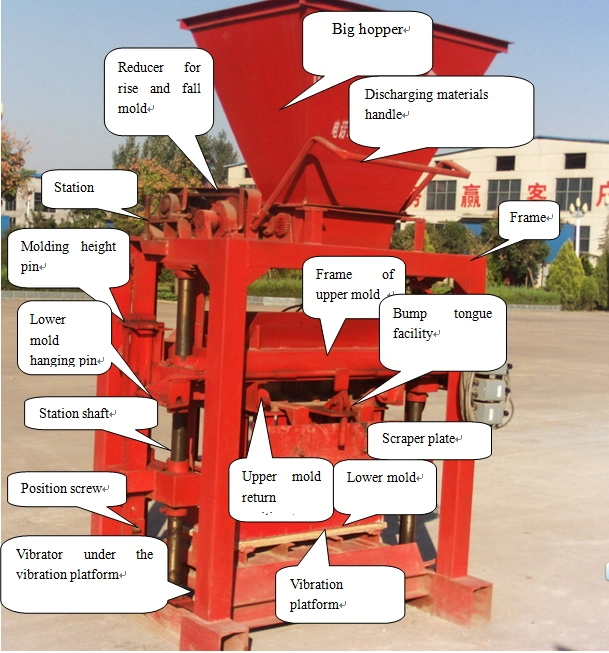 QTJ4 - 35 type electric block forming machine, the host can be operated independently, also can be equipped with a belt conveyor, a pipeline
mixer. The host comprises a vibration source, transmission, lifting, pushing, hopper, die electric control box system.
Lifting system:
compose of cycloid pin motor, sprockets, lift arm, axle sleeve and hanging pin, positioning pin.
the cycloid pin motor with 1.5 kilowatt driven spindle at both ends of crank arm. Lift and lower the mold in parallel driven by the lift arm, The upper mold and beam hanging by both sides, balanced in the positioning plate. Hanging from the upper mold.make upper mold leave the molding box smoothly.
Vibration system:
under vibration compose of two set vibrator combination with 3KW. vibration above formed by a 1.5KW vibrator up and down.
Raw material :
QTJ4 - 35 type block machine include normal concrete and lightweight concrete raw materials, can use river sand, mechanism sand, gravel, crushed stone, slag, stone and other materials. Meanwhile,it can also use cinder, fly ash, pumice stone, ceramic, perlite, shale and other materials, wide suitability, as long as the raw materials with the power electricity, it can be produced.
Foundation Drawing: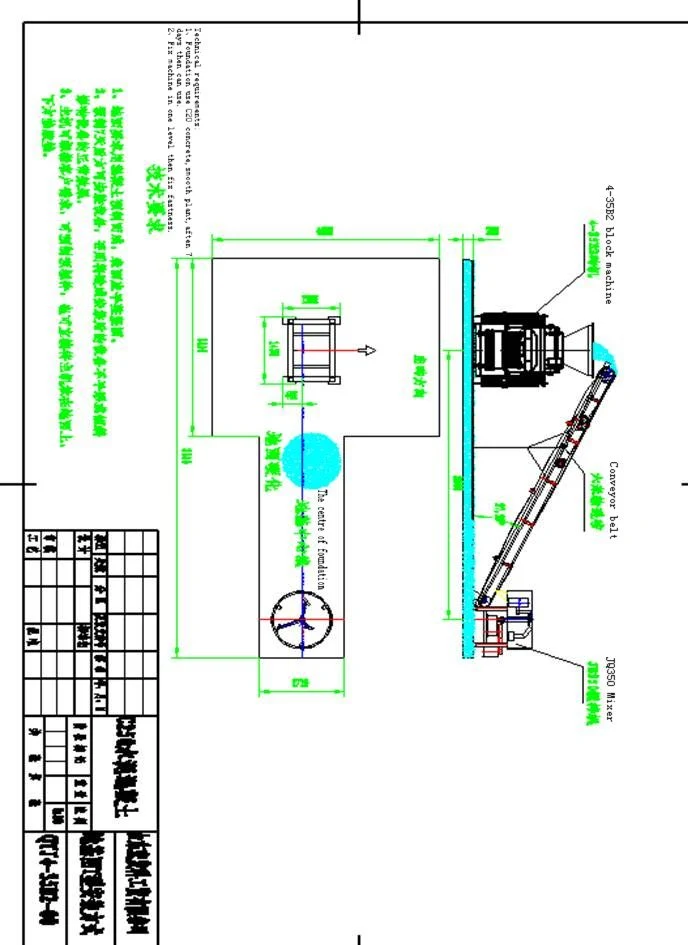 Our Factory Show :
Shandong Dongfengshuanglong Machinery Co.,Ltd is a chinese manufacturer of dedicated machinery for construction material and blocks.Our factory supplies complete production lines for concrete blocks and brick making machine.Our factory was founded in 1990 year.We are owning 36 units new sophisticated machine tools,avanced large scale assembling line for concrete block machine,high precision fabrication center with accurate orientation ,excellent manufacturing craft and skill and strict quality control.These guarantees our Dongfeng machinery with high quality and performance.Our factory has the manufacturing history more than 20 years.With our persistent persuit of first -class technology and first-class quality believe our factory will provide you more relibale and perfect machinery.Looking forward to more friends and clients from the whole world to come and visit our factory for long term cooperation.Thank you!