China Block Machine,New Technology Automatic Cinder Block Machine in Madagascar
Reasons to Choose QT4-18 concrete block machine:
1. QT4-18 is full automatic hydraulic brick machine with medium size
2. Low investment high profit
3. Wide production range: concrete hollow block, cement solid block, wall block,
houdis, cabro, interlocking block, paving brick, color street brick, curbstone....
4. New technology, re-design with many different machines advantage, more
stably and durable
5. Easy to operation
6. Produce stronger and quality bricks
7. Reasonable price
QT4-18 automatic hydraulic block production line photo and video:
https://youtu.be/Y1-CJSdoh-Q?list=PLdJs_LrbNvlcl_Qdvhg2a4ycEFsE4CyLU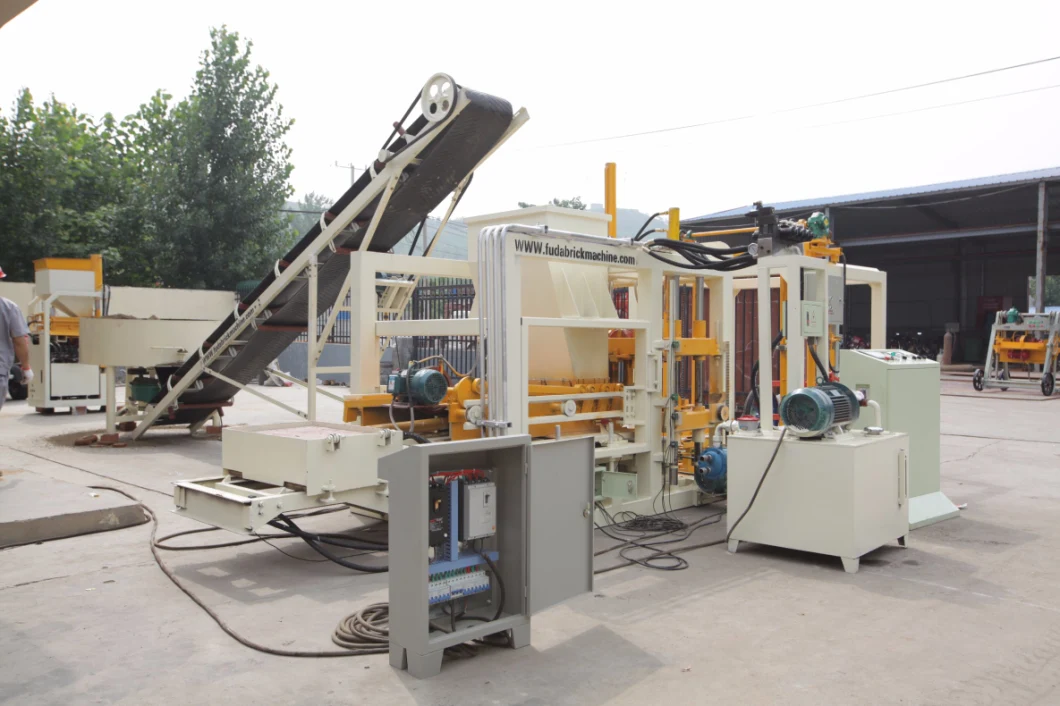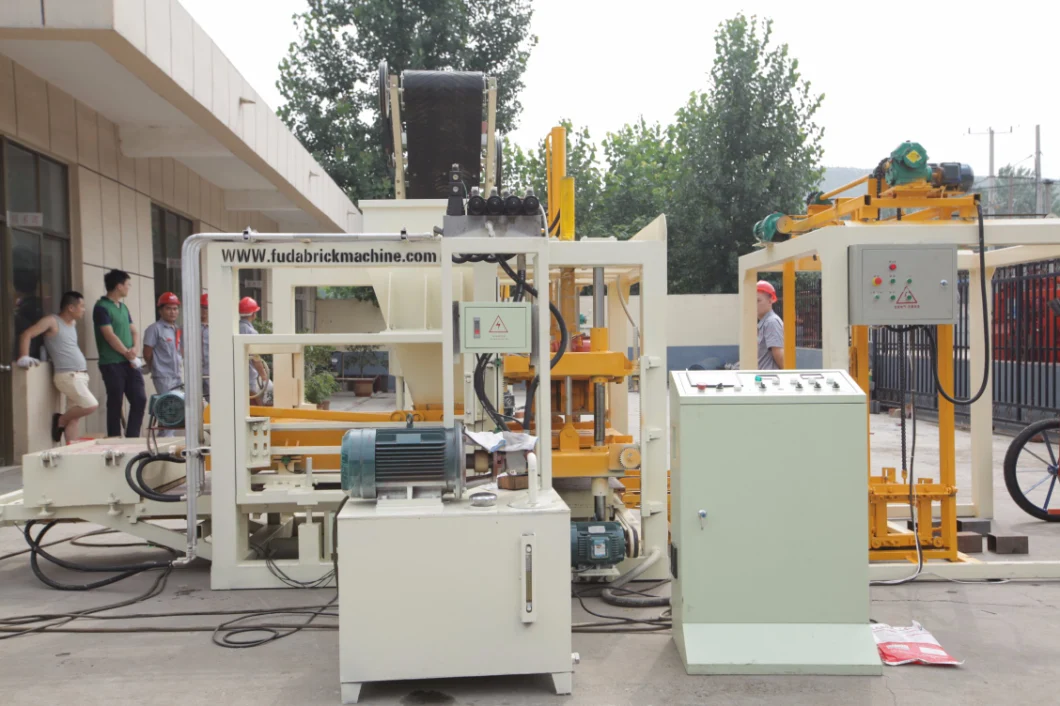 QT4-18 Full automatic hydraulic concrete brick production line:
| | | | |
| --- | --- | --- | --- |
| Item | Number in Photo | Name | Function |
| 1 | A,B,C | Host block machine | Produce brick |
| 2 | D | Conveyor(6m) | Transfer material |
| 3 | E | Mixer | Mixing raw material |
| 4 | F | Block transfer platform | Transfer brick |
| 5 | | Stacker | Lay bricks |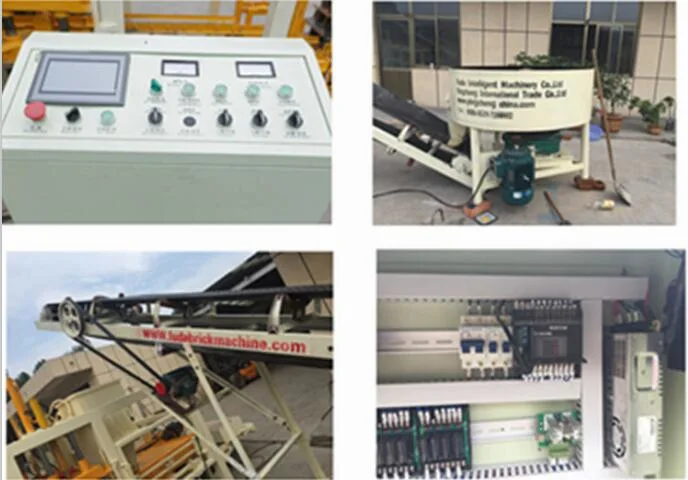 QT4-18 Technical information:
Power
19.2KW
Electric Sorce
380V, 50HZ,3Phase
Cycle per mold
15-18S
Pressure
16 Mpa
Pallet Size:
900*550*25mm
Machine Size
3650*2100*2720mm
Weight
3800Kg
Worker
4-6 Workers
Raw Material
Concrete; Cement, sand, stone; Flyash, Stone powder, Cinder....
Products
Hollow, solid, houdis block, interlocking paver
Function
Fully Automatic Hydraulic
Land Area
Shaded Area: 100-200m2
Stocking and Curing Area: 500-1000m2
QT4-18 Production capacity of different brick types:
Item
Mold Info
Pcs per mold
Capacity
1
40*20*20cm (hollow/solid)
4 pcs/mold
5760 pcs/8 hours
2
40*10*20cm (hollow/solid)
8 pcs/mold
11520 pcs/8 hours
3
20*10*6cm (Holland Brick)
16 pcs/mold
23040 pcs/8 hours
4
20*16*6cm (I shape)
12 pcs/mold
17280 pcs/8 hours
5
22.5*11.25*6cm (S shape)
12 pcs/mold
17280 pcs/8 hours
A. Mold Changeable
B. QT4-18 could produce different wall blocks, pavers and curb stones
QT4-18 Raw material proporation for your reference:
Item
Ram Material
Proporation
1
Concrete
Cement:sand:stone=1:3:6
2
Concrete with fly ash
Cement: 8-15%, Fly ash: 10-15%, Sand: 15-20%, Stone: 55-60%
3
Concrete with stone powder
Cement: 5-10%, Stone powder: 5-10%, Sand: 20-30%, Stone: 50-60%
If you want to produce stronger block, you should add more cement, but cement no more than 20%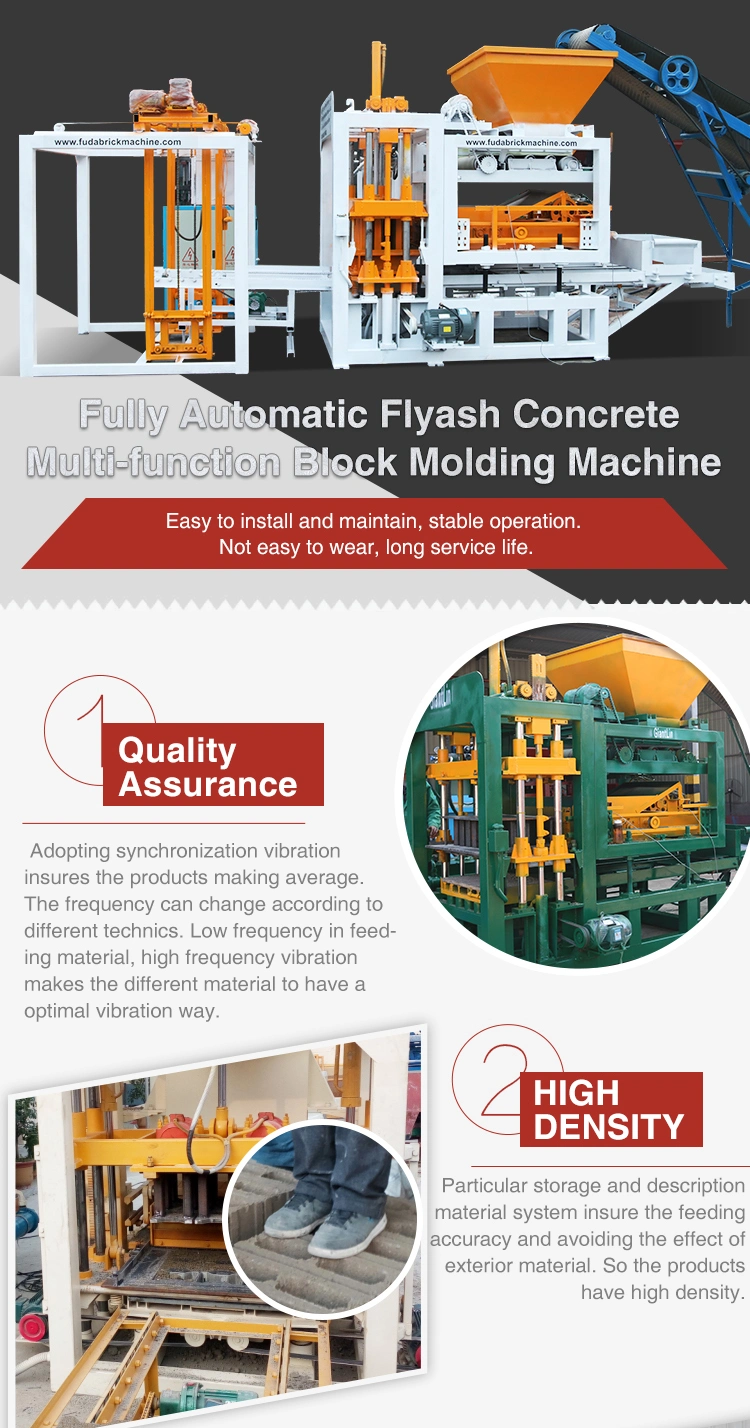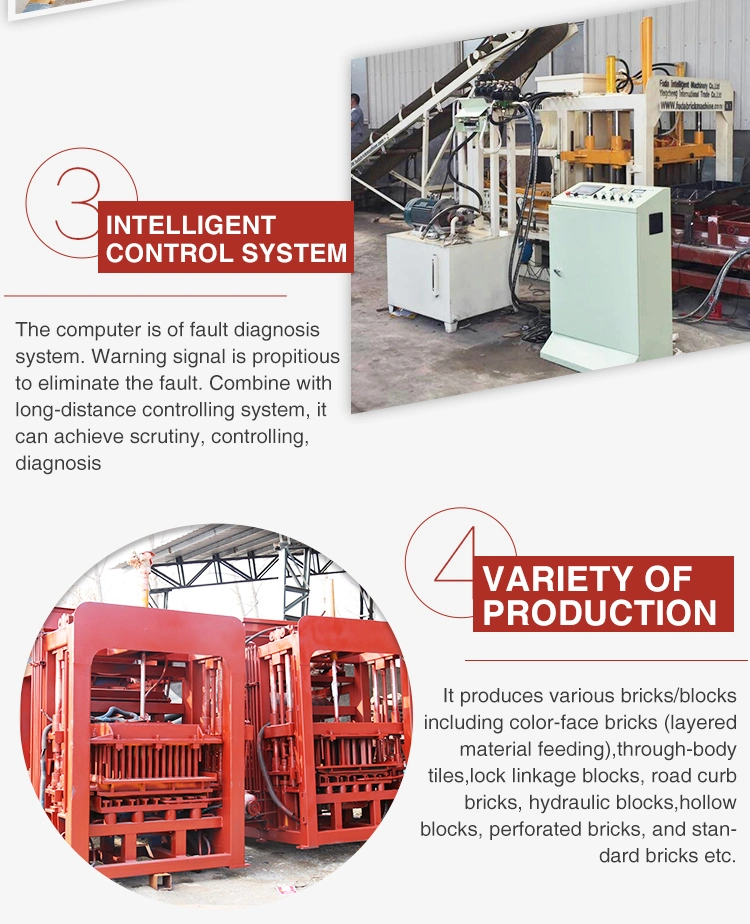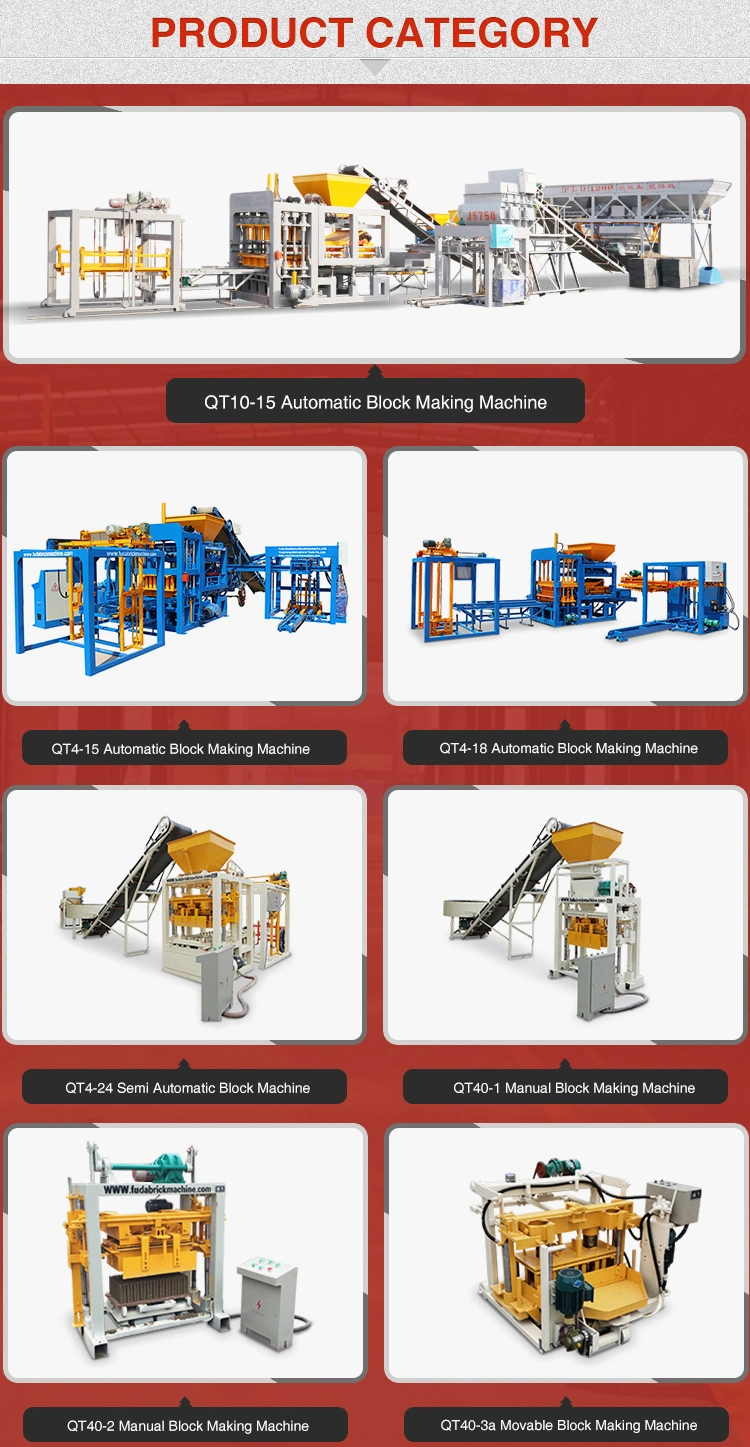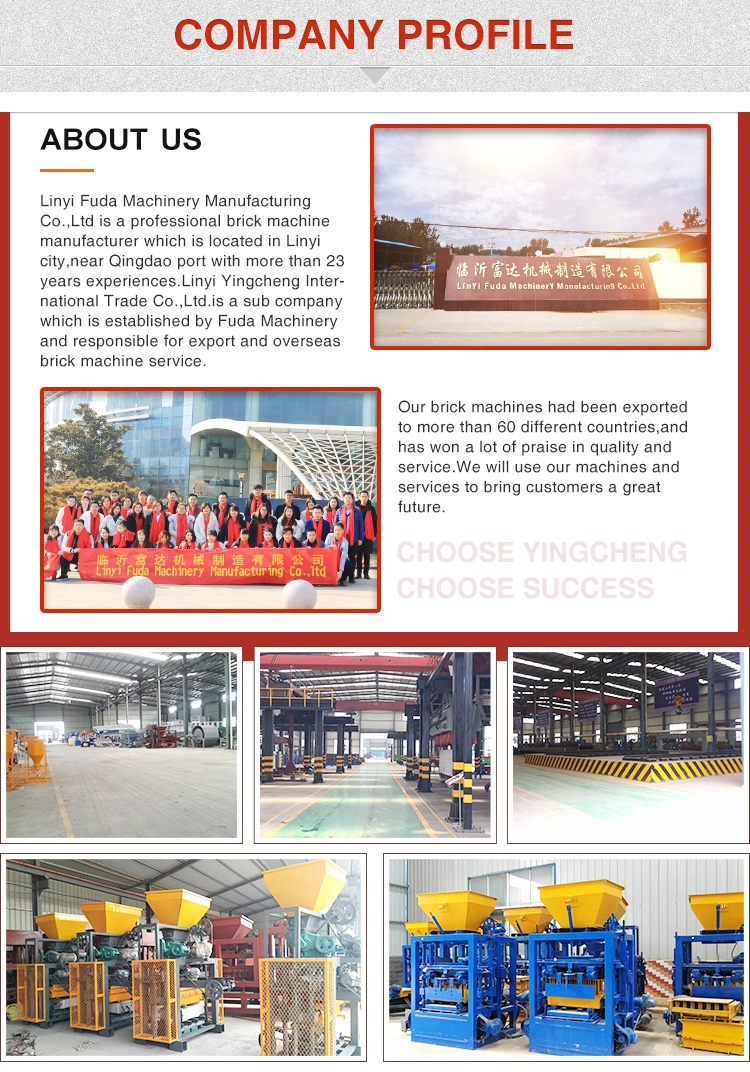 This is Carina from China Fuda brick machine factory.Any interests,welcome contact me directly.24/7service for you.



China Block Machine,New Technology Automatic Cinder Block Machine in Madagascar