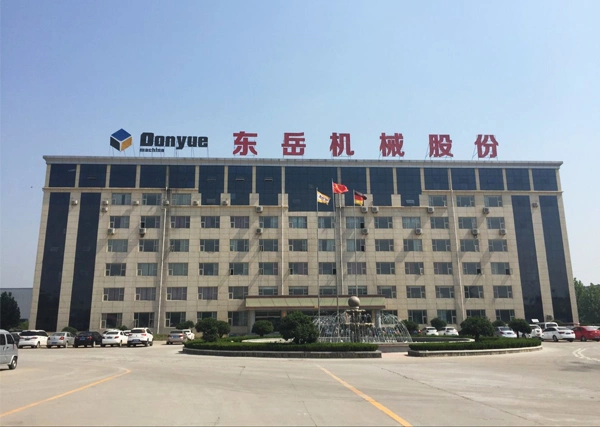 Dongyue Machinery Group are leading cement brick making machine in China.
Our brick machine has been exported to more thn 60 countries.
Oversea offices are built in India. Indoneisa. Vietam etc.
We have 32 fly ash brick making machine plant in India.
They spread in Bhubaneshwar, Coimbatore, Rajkot, Koltata, bangalore, Indore etc.
Two after sale service centers and spare stock center are available in Ahmedabad and Bhubaneshwar.
India engineers are well trainned in China and can install the machine in India directly.
Germany technology, Made in china1. Compared with other companies, Dongyue Has following advantages
1). Service covered right from Inside India. We are the only company that has got Indian office
2). We are the only company that has got spares store in India.
3). We have 2 engineers and 2 operators trained in this Industry in china for your support. We also apart from other administrative staff.
4). You also get pre-installation support, Project report support Project guidance, Import guidance, and layout guidance from India office.
5). We do not have agents, so no commission. What you get is Value for Money from us.
6). Warrantee is covered from Indian itself
7). Service and up gradation support right from India
8). All our Indian supplied machines have 415 Volts, 3Phase, 50 Hz systems to confirm to Indian standards. Other Chinese companies use 380 Volts system as this is the Chinese standard. WE also give you all German Motors of Siemens Brand or ABB brand.
9). Our PLCs are of high quality Siemens or Mitsubishi and not Chinese or Taiwan brands. So in very rare case of any problems in Motors or PLCs, you can have warrantee covered in India itself.
10). We also have the Biggest Pallet size compared to other manufacturer for the same class of machine. Bigger the pallet, bigger has to be the machine and thus the more study the machine has to be.
2. Cement manual simple solid brick block making machine QT4-25 requirement:
(1)380V / 50HZ-60HZ / 3 Phase
(2)415V / 50HZ-60HZ / 3Phase
(3)440V / 50HZ-60HZ / 3 Phase
(4)220V / 50-60HZ / 3 Phase
(5)240V / 50-60HZ / 3Phase
3. Raw material proportion of cement brick making machine manual|simple brick machine|solid block machine price qt4-25 dongyue:
1). cement 8-10%, 30%-40%sand, 50%-60% crushed stone
2). cement 8-10%, flyash 30%, sand (stone powder)60%, 2 gypsum
4. work area of cement brick making machine manual|simple brick machine|solid block machine price qt4-25 dongyue:
workshop: 50-100 square meter
Total land: 1000 square meter( according to your own situation
5. Sample for blocks of this type block machine: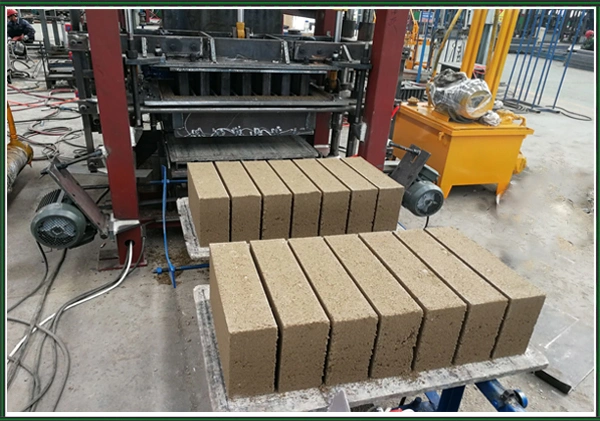 Techinical Parameter of cement brick making machine manual|simple brick machine|solid block machine price qt4-25 dongyue :
Dimension of host machine
4000 × 1900 × 2320mm
Host machine power
20 KW
Vibration Force
45Kn
Vibration Frequency
4200r. pm
Mould period
25S
The size of the pallet
900 × 650mm
Production
5760pcs(400*200*200)/8hours
Pressure of block
9Mpa-10Pma
Host machine
1
1.5KW*2
UPPER VIBRATION MOTOR
Chinese Famous Brandname
2
3KW*2
DOWN VIBRATION MOTOR
3
1.5KW
CONCRETE FEEDER
220VOLT, 60HZ, 3PHASE AND NEUTRAL
4
2.2KW
CONCRETE FEEDER
5
2.2KW
PALLET FEEDER
6
2.2KW
MOULD UP & DOWN
7
0.75KW
Hook
8
0.75KW
BLOCK FEEDER
9
0.75KW*2
STACKER
Production capacity of cement brick making machine manual|simple brick machine|solid block machine price qt4-25 dongyue :
Size(LxWxH)
Pcs/Mould
Pcs/ Hr
Pcs/ 8 Hr
400X100X200
7
630-840
5040-6720
400X150X200
5
450-600
3600-4800
400X200X200
4
360-480
2880-3840
400X250X200
3
270-360
2160-2880
240X115X 52
26
2400-2880
19200-23040
all kind of hollow and solid
block