Full Automatic Brick Making Machine QT8-15 Hydraulic Brick Machine Hollow Block Making Machine / Construction Machine / Pavers Brick Machine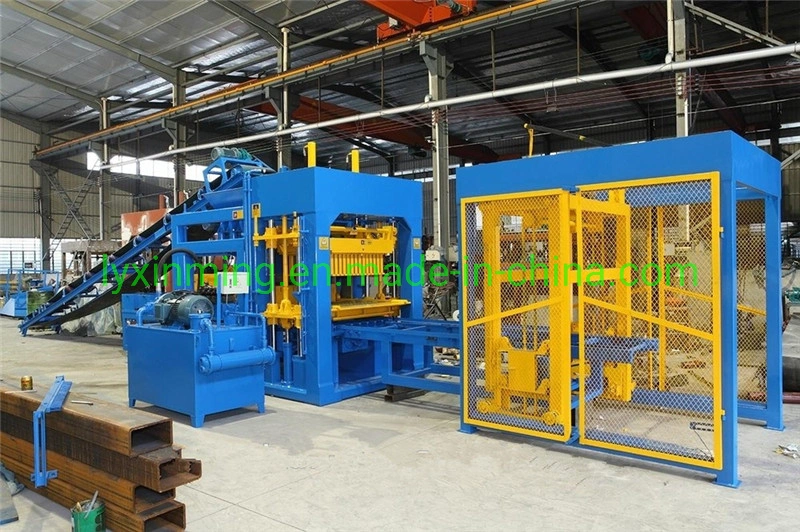 Advantages of QT8-15 hydraulic automatic brick machine
1. Full automatic block paver brick block making machine can produce various solid blocks , hollow blocks, pavers and curbstones by changing moulds.
2. Full automatic block paver brick block making machine adopt to hydraulic pressure moulding system , so the brick machine has more stable and higher-efficiency working status and the bricks produced are of better quality, larger density and higher strength.
3. Precise line cutting technology and carburizing treatment technology to prolong mould life and increase precision of the block.
4. Switches will use Japan Omron or France Schneider band, motor will use Siemens or ABB brand.
Details parts show


What's the complete QT8-15 brick machine production line?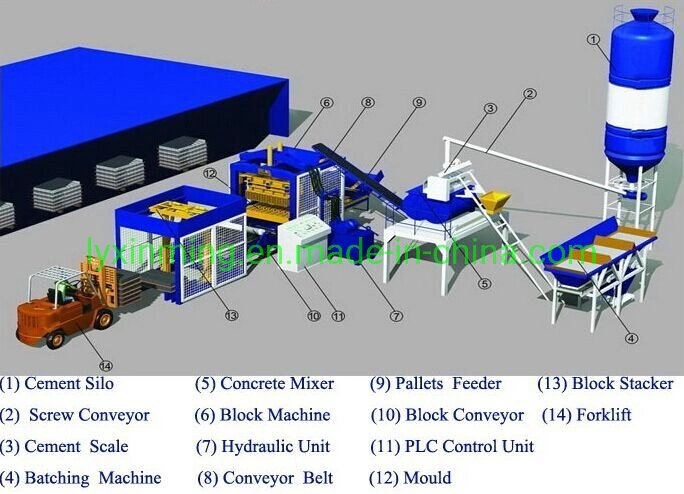 Our QT4-18 brick machine can euquiped different accessories according to your requirements, such as cement silo, batchiing room, Stacker, Forklift...
Machine Name

Function

Electric Power

2

Batching Machine

Batching Raw material (sand and stone)

12kw

4

JS750 Mixer

Mixing Raw Material (sand, stone, cement)

38.6kw

5

8m Belt Conveyor

Carry mixture from Mixer to Block Machine

2.2kw

6

QT8-15 Block Machine

pallet feeding system

44.2kw

Material feeding system

Hydraulic Station

Automatic PLC Control

E

Stacker

Automatic Stacking Fresh Block

3kw

Total Power
100KW
Production Capacity
Item
Block
Production capacity
Photo

1

Hollow/Solid block

400-200-200mm

8 pcs/mold
15360 pcs/8h



2

Hollow/Solid block

400-150-200mm

10 pcs/mold
19200 pcs/8h

3

Hollow/Solid block

400-100-200mm

16 pcs/mold
30720 pcs/8h

4

Houdis block

450-120-200mm

12 pcs/mold
23040 pcs/8h



5

S shape paver

225-112.5-60mm

21 pcs/mold
30240 pcs/8h



6

I shape paver

200-160-60mm

20 pcs/mold
28800 pcs/8h




7

Holland paver

200-100-60mm

32 pcs/mold
46080 pcs/8h
Blocks Sample Pictures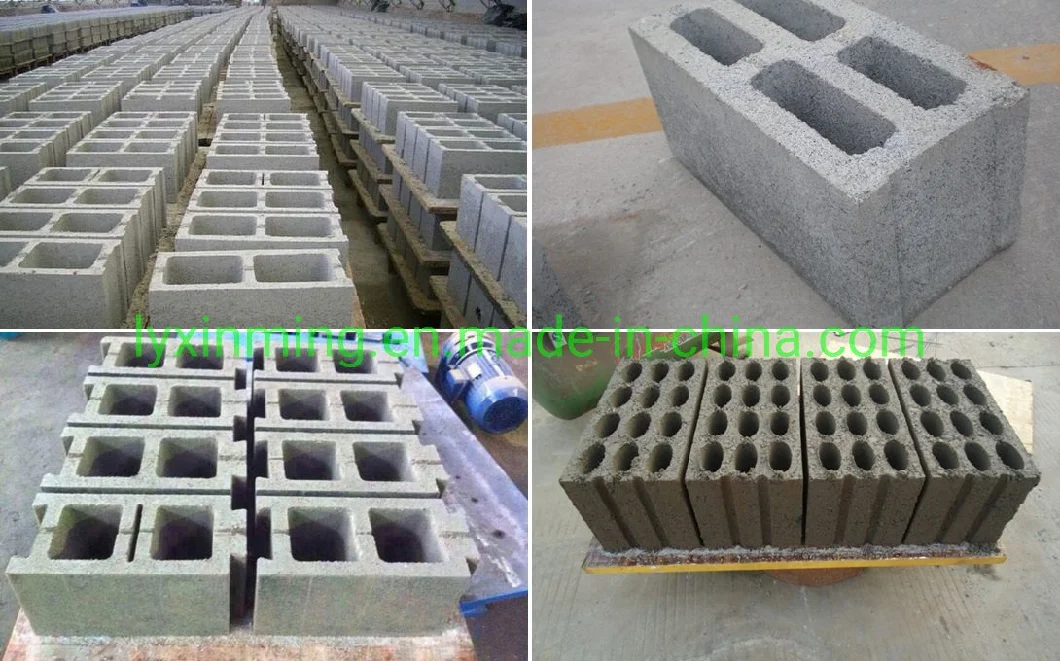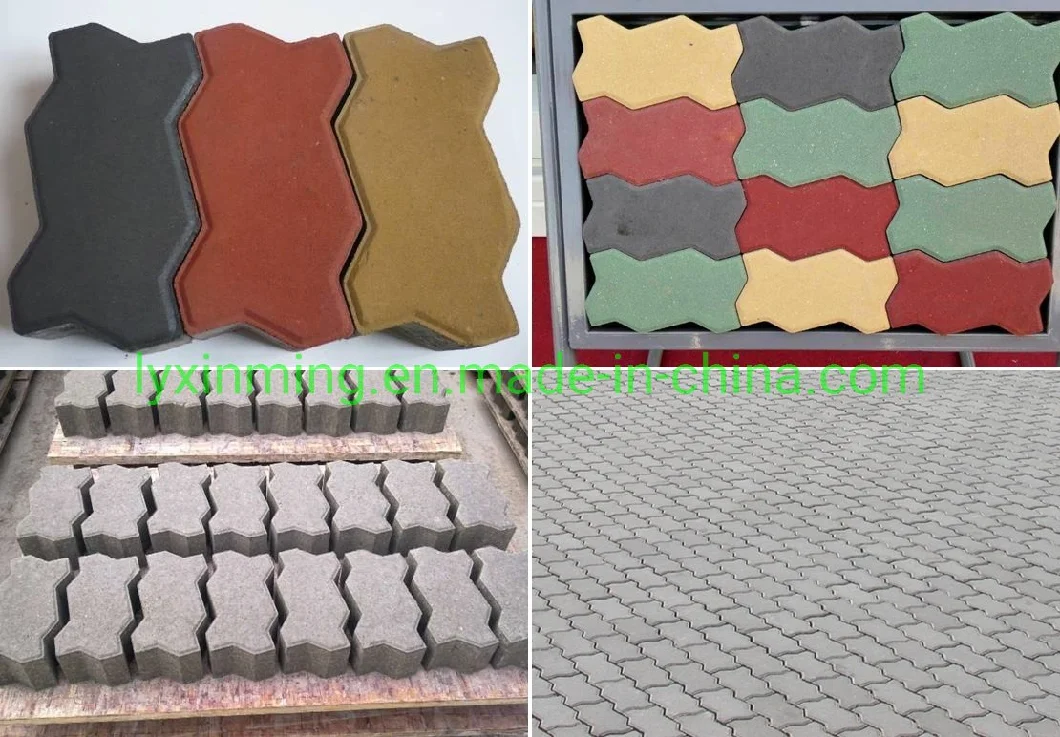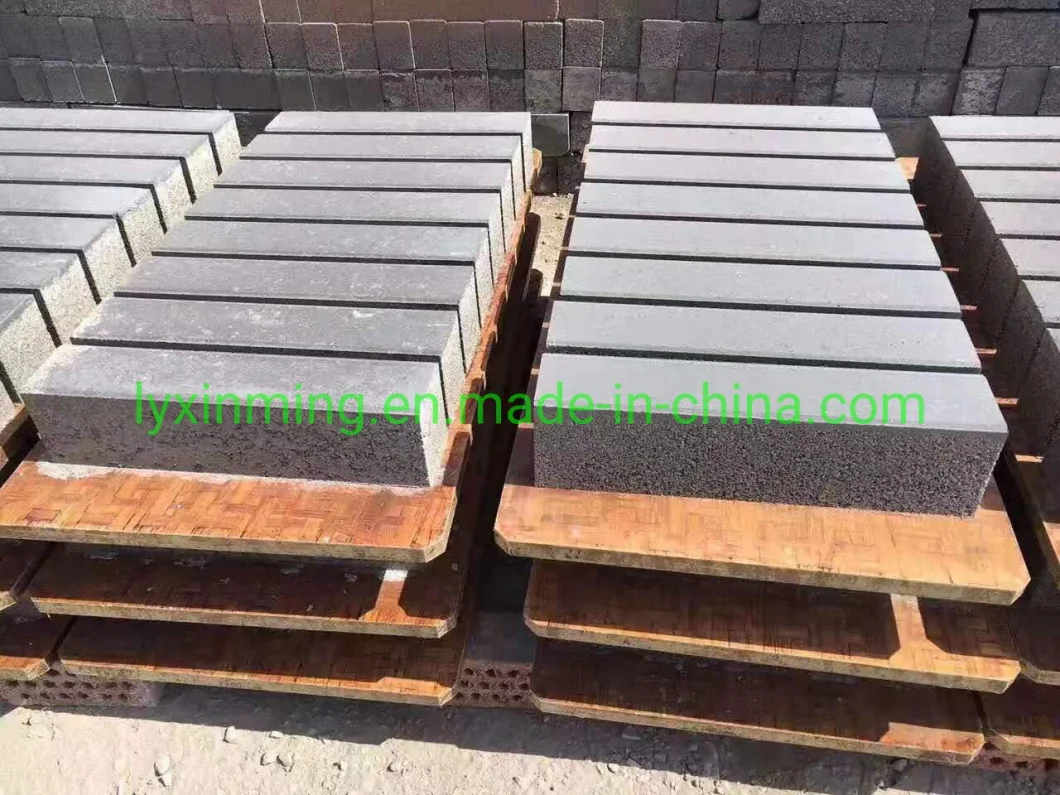 Workers Number: 5-6 Workers
Two workers to load material into Mixer
One Workers to operate block machine
One Workers to load pallet into pallet box of block machine
One or Two workers to carry fresh blocks to curing size

Factory Area : 1500-2000 M²
Shelter Area: 260 M²
Pallet Number for QT8-15 automatic block making line: 1500-2000 pallets
Xinming Machinery Factory supply bamboo pallet, fiber (GMT) pallet and PVC pallet. We recommend you the Fiber Pallet.
Maintance: QT8-15 automatic hollow solid block making machine is easy in maintance. please clean the mixer and mold after everyday work and fasten screws and add lubrication oil to moving parts before every day work.
Install Service: We will ship machine in whole one. you only connect elecctricity line with block machine, the machine can work. the manual and installtion video is avaible.
Guarantee Time: One year. we will supply free accessories with machine for one year use. and Technical service and spare parts are avaible in all time.

Package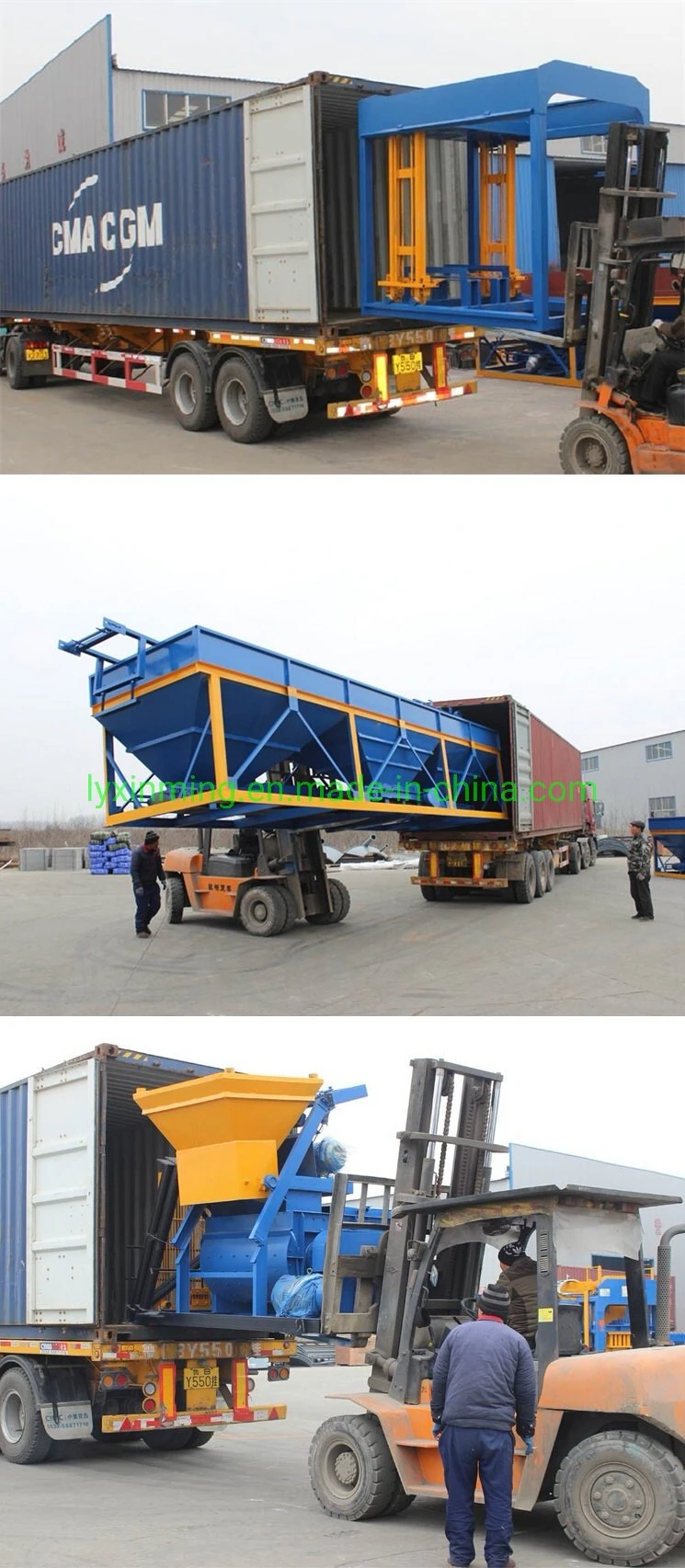 Our Company

Xinming Machinery Co., Ltd. was established in 2001. Located in Linyi, the capital of China's logistics industry, it is mainly engaged in the research and development and sales of construction machinery and engineering machinery such as concrete brick machine, clay brick machine, brick machine mold, excavator, loader, etc. It is the leading brick machine manufacturing and export enterprise in Shandong Province. It is a star enterprise with 18 years experience in brick machine manufacturing and sales, and has established long-term business relationships with customers in more than 70 countries and regions.

Based on our own sales experience, our company has cooperated with many domestic manufacturers to develop multi-series, multi-specification and different types of brick machine equipment according to the brick-type requirements of each exporting country to meet the production needs of customers in different countries. Can provide customers with high quality complete sets of equipment and technical services. Formulate scientific technological processes, provide excellent mechanical equipment, and have a leading position in the domestic technology.

In the future, we will continue to take technology development as the leader, benefit as the center, quality as the foundation, and reputation as the guarantee, and strive to provide better products and services to customers around the world.

Contact Us