QT6-15 Automatic Cement Solid Brick Machine Hydraulic Hollow Interlocking Block Making Machine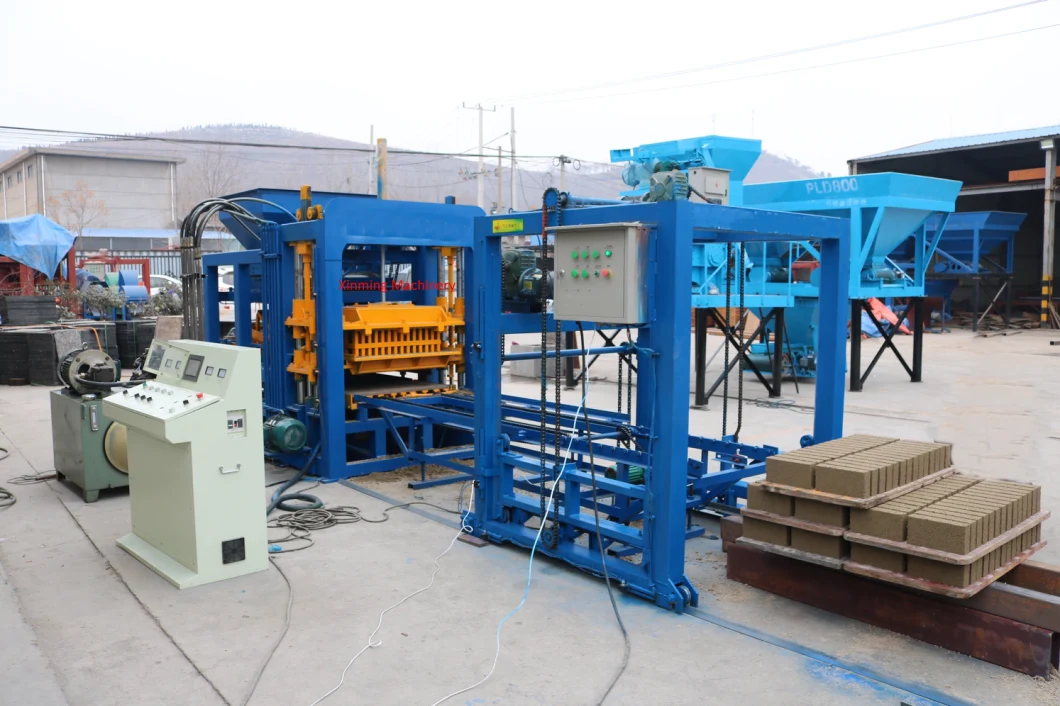 Advantages for QT6-15 Fully Automatic Concrete Brick Making Machine
1. Automatic PLC Operation
2. Produce sizes of hollow block, solid brick, hourdis, paver and curbstone by changing molds.
3. Professional manufacturer: Produce any sizes and shapes of molds as you want.

4.Newest Heat Treatment device assure longer mould life

5.Carbon Dioxide protection welding will assure whole line stable running.



Detail Parts Show

Every small part is tested by our workers for strict quality. Our machines are presented to each of our customers with the best quality and the most beautiful attitude.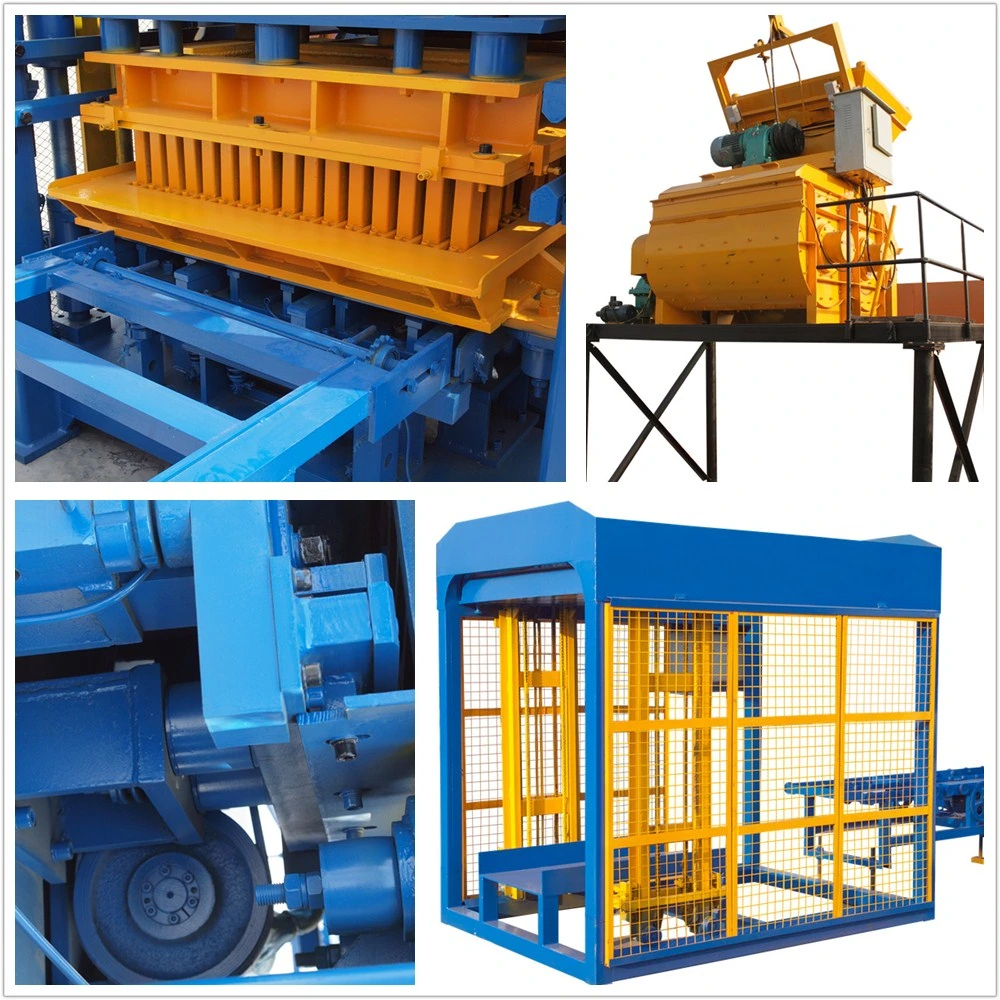 Production Description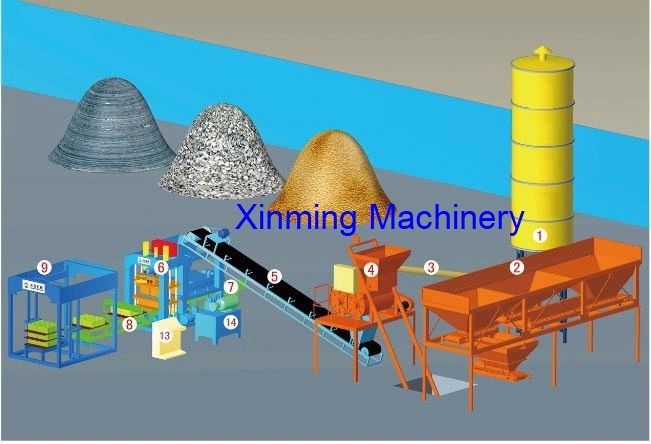 1: Electric Power List for QT6-15 automatic hydraulic vibrated cement concrete brick block making machine
Item
Name
Detail
Technical Info
A

QT6-15

Brick machine

Host machine (Power: 21.8kw)

7. Pallet feeding system

7. Material feeding system

6.hollow block mold

1. Production capacity: 7680Pcs/8h

2. Fully automatic, hydraulic system

3. 15s produce one pallet blocks

4. Rated pressure: 21mpa

5. Load in 40HQ container

6. Multi function: Hollow, solid block, paver, houdi

14. Hydraulic station
13. PLC controller
Spart parts & Trolley
5
Conveyor
6m; 0.75kw
Load weight/meter: 100kgs/m
8
Mixer
Diameter: 1.5m; 11kw
Production capacity: 8-12cbm/h
F
Block receiver
2m; 0.75kw
Delivery blocks from block machine to stacker
9
Stacker
Laying blocks; 1.5kw
Laying 4-5 pallets per time
Total: QT4-15 block production line total need 5-7 workers in factory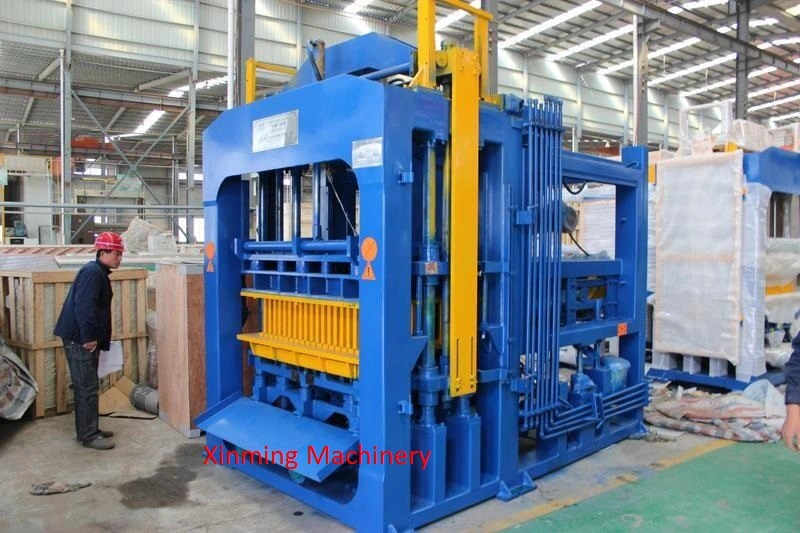 2.QT6-15 multi function concrete brick production plant technical information:
| | |
| --- | --- |
| Dimension of host machine | 3650(L)*2450(W)*2950(H)mm |
| Mould period | 15S |
| Host machine Power | 29.1kw |
| Vibration force | 50-60n |
| Pallet size | 960*700*20mm |
| Mixer | JS500 |
| Weight | 8T |
| Factory area | 260m2 |
3.Production Capacity
QT6-15 Automatic Concrete Block Making Machine is multipurpose, especially, the mold is changable. It can produce different size and shape of blocks by changing moulds. Such as concrete hollow block, soild block, colorful paver brick, curbstone etc.
Item
Block
Production capacity
Photo
1

Hollow/Solid block

400-200-200mm

6 pcs/mold
11520 pcs/8h


2

Hollow/Solid block

400-150-200mm

8 pcs/mold
15360 pcs/8h
3

Hollow/Solid block

400-100-200mm

10 pcs/mold
19200 pcs/8h
4

Houdi block

450-120-200mm

10 pcs/mold
19200 pcs/8h


5

S shape paver

225-112.5-60mm

15 pcs/mold
28800 pcs/8h


6

I shape paver

200-160-60mm

12 pcs/mold
23040 pcs/8h



7

Holland paver

200-100-60mm

24 pcs/mold
46080 pcs/8h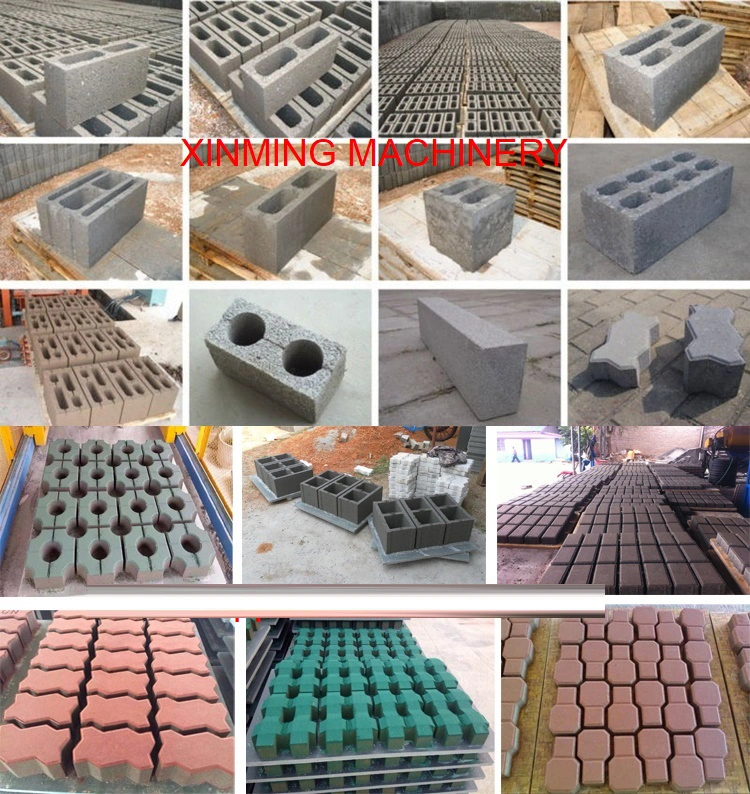 4. Workers Number: 5-6 Workers
Two workers to load material into Mixer
One Workers to operate block machine
One Workers to load pallet into pallet box of block machine
One or Two workers to carry fresh blocks to curing size

5. Factory Area : 1500-2000M2
Shelter Area; 260M2
6. Pallet Number for QT6-15 automatic block making line: 1500-2000 pallets
Xinming Machinery Factory supply bamboo pallet, fiber (GMT) pallet and PVC pallet. We recommend you the Fiber Pallet.
7. Maintance: QT6-15 automatic hollow solid block making machine is easy in maintance. please clean the mixer and mold after everyday work and fasten screws and add lubrication oil to moving parts before every day work.
8: Install Service: We will ship machine in whole one. you only connect elecctricity line with block machine, the machine can work. the manual and installtion video is avaible.
9. Guarantee Time: One year. we will supply free accessories with machine for one year use. and Technical service and spare parts are avaible in all time.
Packaging & Shipping
QT6-15 is one of our best-selling machines. This type of concrete block making machine is a fully automatic hydraulic vibration machine with high output, low power and affordable price.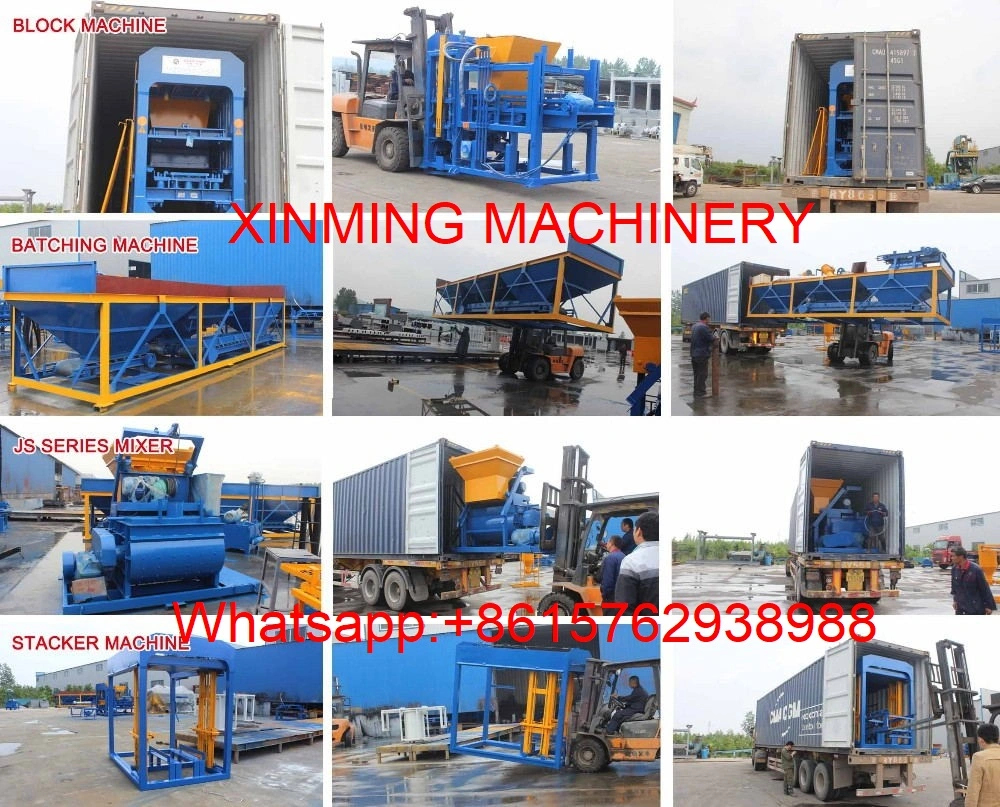 Company Information
Xinming Machinery Co., Ltd is one of the biggest professional manufacturers of block machine with 18 years histories. Our Factory is located in Linyi City, Shandong Province, China.
On the basis of Rich experience and advanced Germany technologies,Xinming Machinery are majored in models of concrete block machine and clay interlocking brick machine to meet requirement of all customers. Such as automatic block machine, semi-automatic block machine, manual block machine, paver machine, curbstone machine and clay interlocking lego brick making machine. Xinming Machinery is widely used and praised in more than 70 countries such as Ghana, Kenya, Peru, Mexico, Vietnam, Sudan and so on.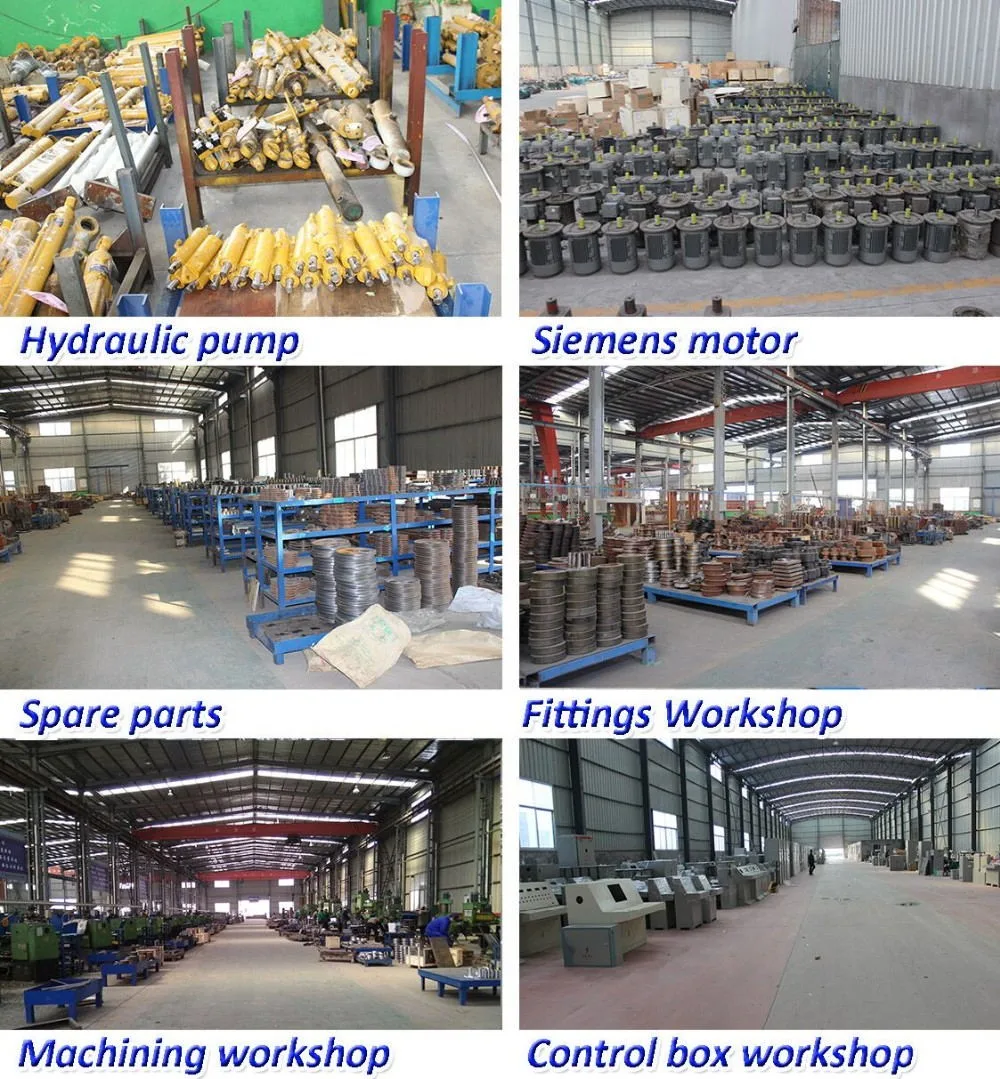 Contact Us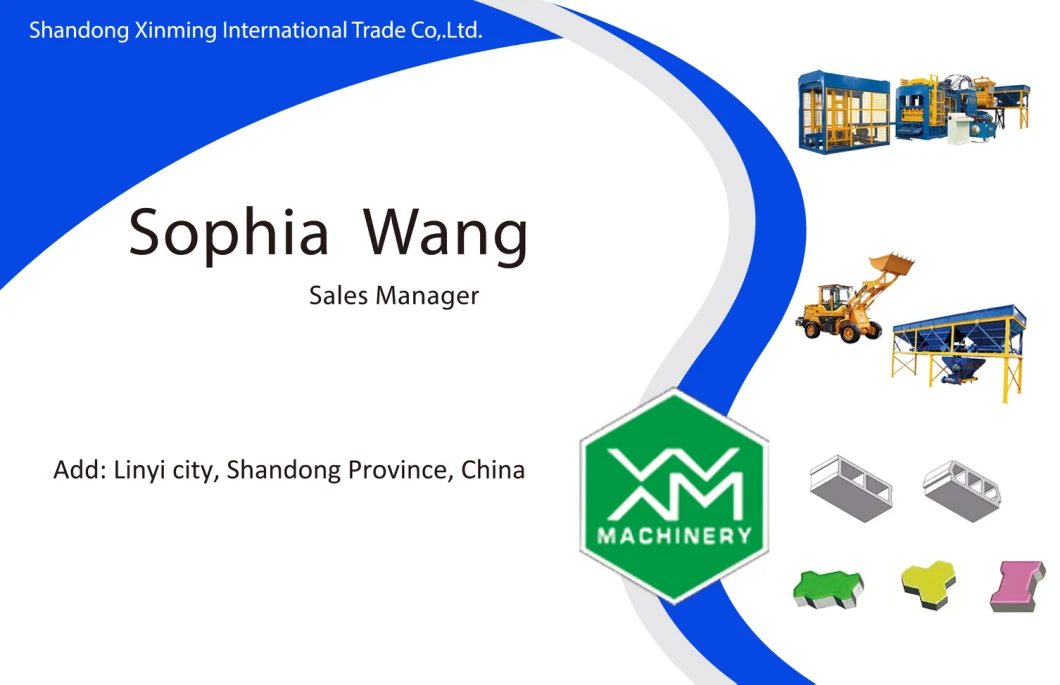 Or click the following contact to send us email !
↓↓↓