Germany Technology QT4-15C automatic cement brick block making machine price, concrete paving block machine for sale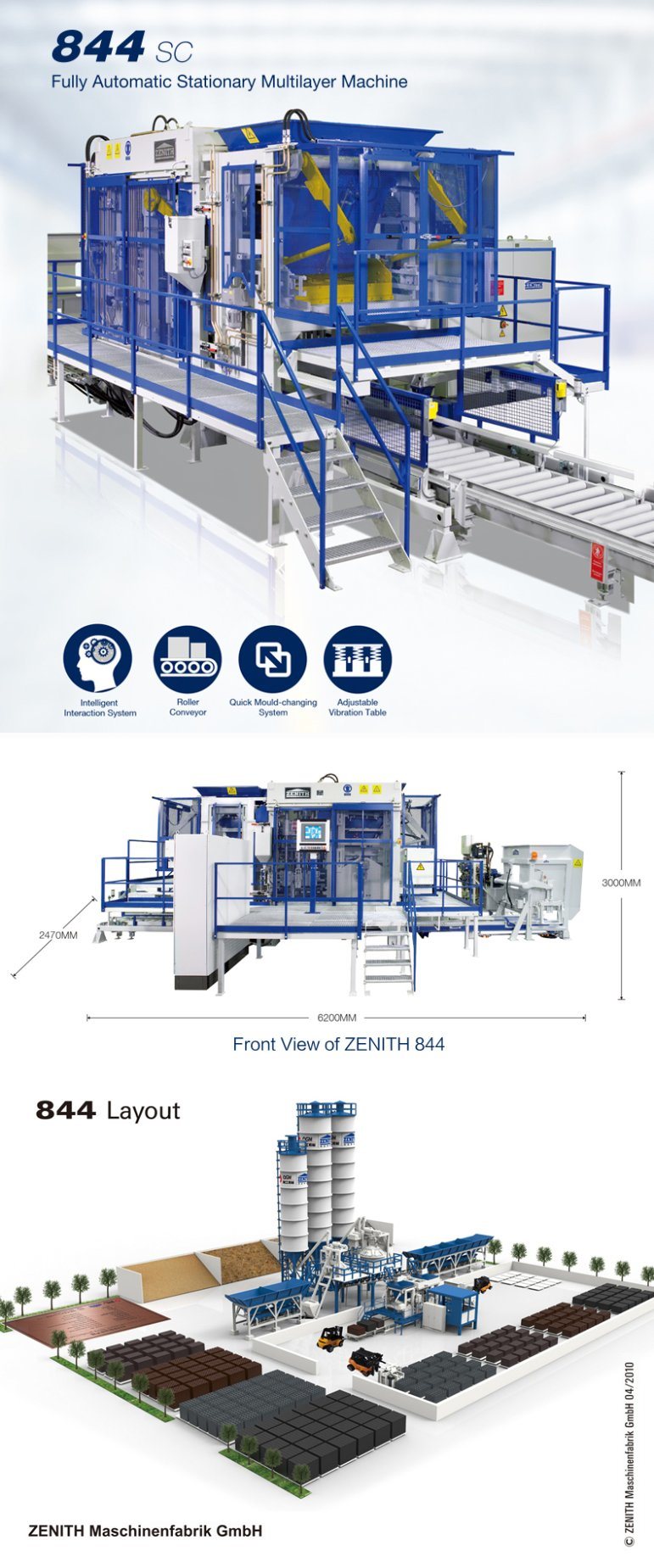 QGM Zenith Concrete block machine is designed in Germany with frequency conversion technology. The block machine from QGM ZENITH contains 6 core technology:
1.Highly-efficient Vibration
Concrete Block Machine designed and made by QGM adopt the most-advanced vibration technology from Germany Zenith which QGM fully acquired in 2014. The vibration table consists of dynamic table & static table, which greatly improve the vibration efficiency and guarantee the high quality of concrete blocks.
2.High efficiency hydraulic system:
QGM adopts international brand motors and valves in hydraulic system, including Siemens electric motor and Italy brand hydraulic hoses etc. High-dynamic proportional valves and constant output pump adjust the oild speed and pressure, with the features of high-stability, high-efficiency and energy-saving.
3.Frequency Conversion Control & Energy-saving
Concrete block machines contain Frequency conversion technology. The technology was re-innovated and improved by Germany ZENITH R&D center, which could save 20-40% power by adjusting the frequency converter, comparing with traditional motor, this design could greatly improve the quality and intensity of concrete blocks and prolong the motor lifetime.
4.Fully-automatic Control-Siemens System
Concrete block machine of QGM ZENITH adopts Siemens PLC and Siemens control panel for electric control system which ensures high stability, low failure rate and easy maintenance.
5.Compulsory Feeding
Feeding box of concrete block machines uses two SEW feeding motors, totally controlling four mixing shafts. The feeding frame, bottom plate & mixing blades of QGM block machines are made of high-duty HARDOX steel, which strengthen the sealing performance and prevent material leakage. The discharging gate is controlled by SEW motor also.
6.Intelligent Cloud System
Concrete block machine is equipped with the most advanced industrial Internet Technology, with the advantages of remote control, operation, automatic trouble-shooting and maintenance. Intelligent Cloud System ensures the high quality after sales service for concrete block machines from QGM ZENITH.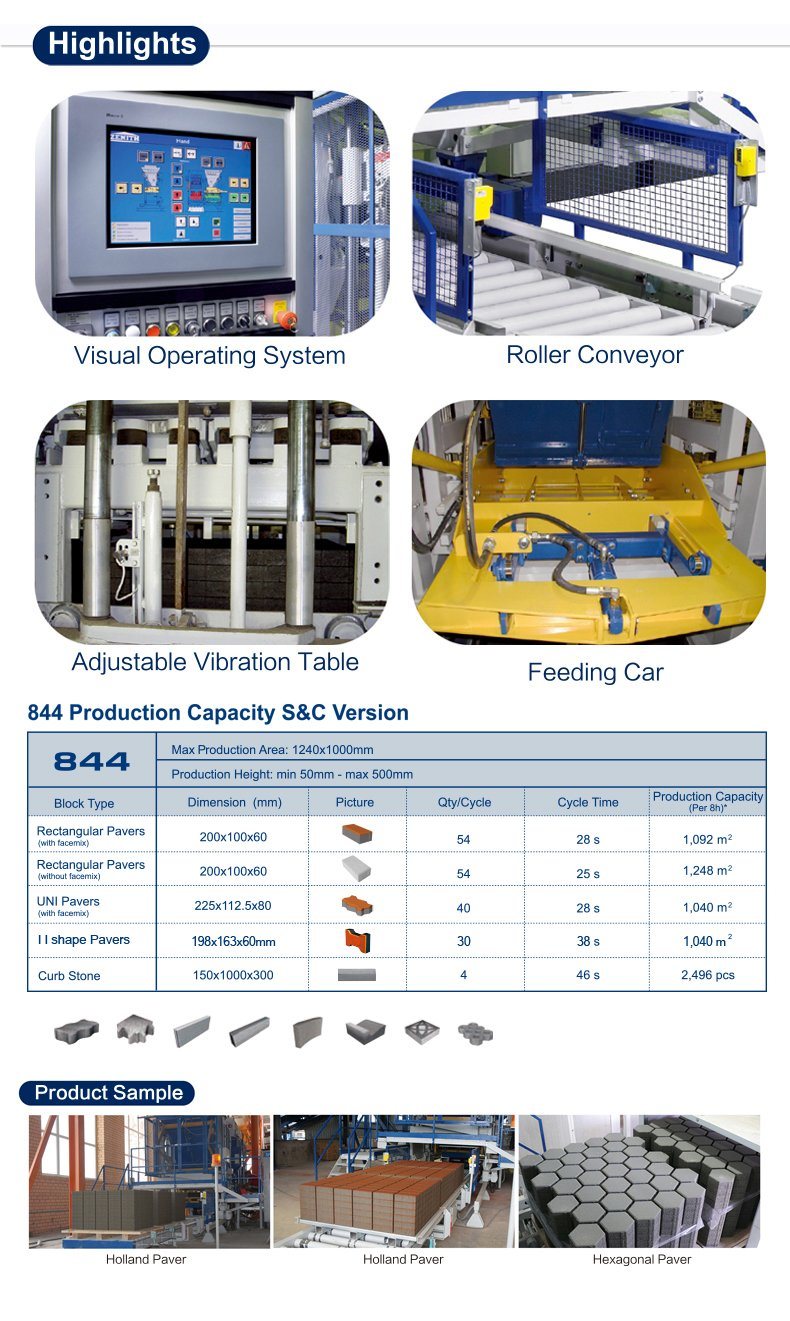 844 Technical details
Features
Block height
max.
500 mm
min.
50 mm
Cube height
max.
640 mm
Production area max.
1240x1000 mm
Pallet size standard
1270x1050x125 mm
Back concrete hopper
Volume
About 2100 L
If cube height, pallet size or production height which you required not be listed here, we will be happy to design special programs or solutions for you.
Machine weight
With hard face unit
About 14 T
Roller and pusher conveyor, operating platform, hydraulic station, pallet retainer etc.
About 9 T
Machine dimensions
Max. total length
6200 mm
Max. total height(transport)
3000 mm
Max. total width
2470 mm
Machine data/Power supply
Vibration system
Vibration table
2part
Vibration force table
max.80 KN
Vibration force tamper head
max.35 KN
Hydralics
System: multi circuit medium pressure
Capacity(total)
83 L/min
Operation pressure
18 MPa
Electrics
Max. power
50 KW
Control system
Siemens S7-300(CPU315)
Operation via Touch Panel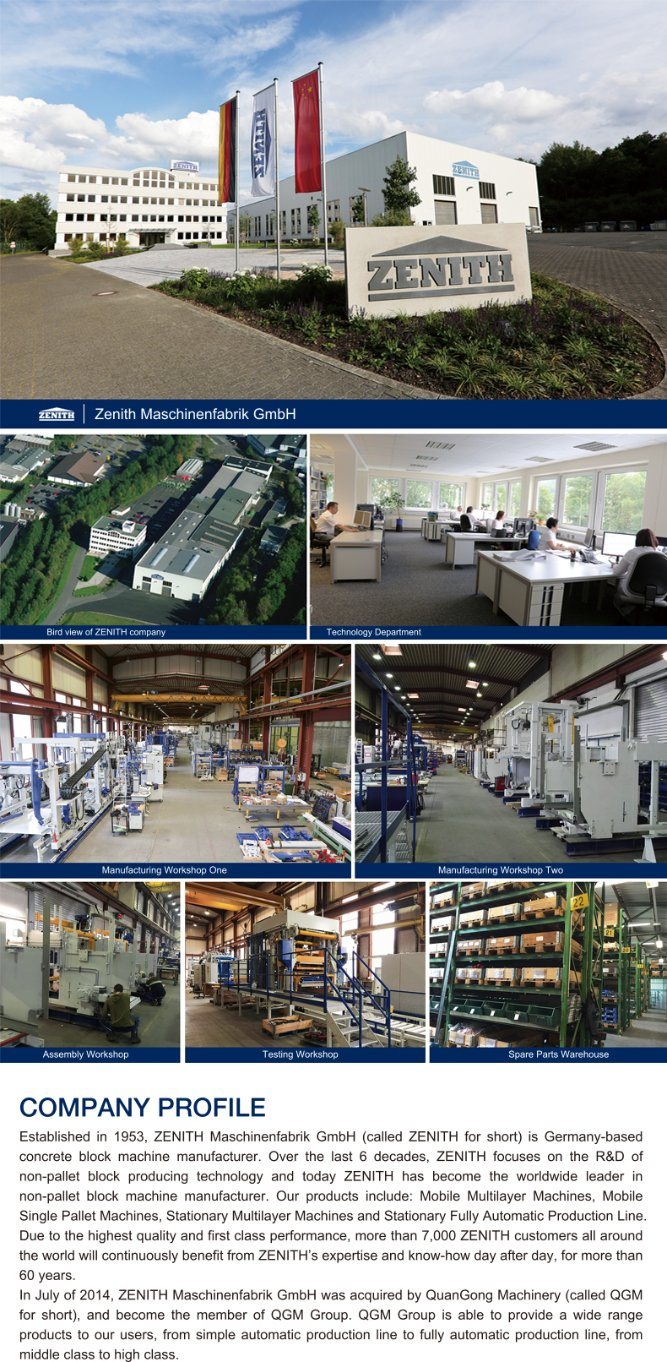 QGM ZENITH has set up overseas concrete block machine after-sales offices all over the world to guarantee the fast and high quality after sales service for global customers. There are 10 overseas offices for the after-market service of concrete brick machine, including Saudi Arabia, India, Dubai, Oman, Algeria, Nigeria, Zambia, South Africa, Vietnam, Indonesia etc
.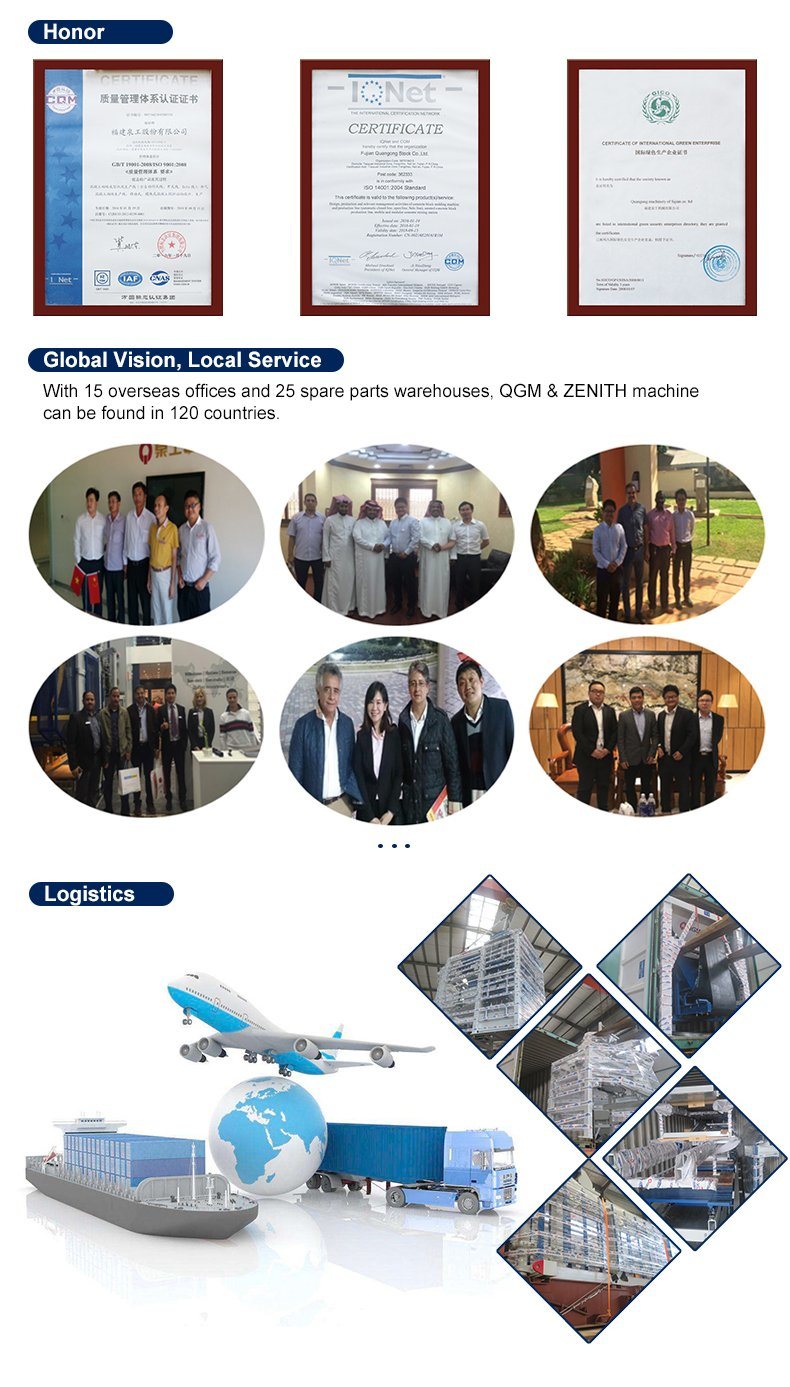 FAQ:
1.Q: For ZENITH844 concrete brick machine, What is the best price you could offer?
A: The price of a concrete block production line includes batcher, mixer, brick machine, stacker etc, so the price varies a lot based on the client's selection of the auxiliary equipment and configuration. QGM ZENITH is glad to provide quotation for customers who could kindly provide detailed technical requirements such as block type, block size, capacity requirement, budget range etc. Please kindly contact us for further discussion.
2.Q: What does the number 6, 10, 900, 1000 mean in the QGM block machine?
A: Take block machine QT6 as an example, 6 means the brick machine could make 6 pieces of hollow blocks at the size of 390*190*190mm. The same goes with QT10. For the ZN900C, ZN1000C, these two concrete block machines are updated with Germany Zenith design after 2014. ZN900C and ZN1000C respectively makes 9 and 10 pieces of the same cement blocks mentioned above.
3.Q: For the concrete block machines from QGM ZENITH, how do you do the installation, commission and after sales service?
A: After the arrival of the block machine on site, QGM will appoint technical engineers to support with the installation, commissioning of cement block production as well as the operator training and test. For after-sales service, QGM has set up overseas offices in different areas for future support, including Algeria, Dubai, India, Indonesia, Nigeria, Oman, Saudi Arabia, South Africa, Vietnam etc.
4.Q: What is the relationship between Quangong Machinery Co., Ltd and Germany Zenith?
A: In 2014, QGM fully acquired Zenith Maschinenfabrik GmbH. Benefiting from the close collaboration between Germany Zenith technology and QGM China Manufacturing center, QGM Group is able to provide a wide range of concrete block machines to global users, from simple automatic production line to fully automatic production line, from stationary automatic block making machine to mobile automatic block machine.
5.Q:What is the strength of the cement bricks that QGM machines could make?
A: The strength of concrete blocks is related to the properties and ratio of the raw material, the strength of cement, the vibration force, the operation of the concrete block making machine, the regular maintenance of the complete production line etc. The QGM technical engineer would test the machine with the raw materials customer provides on site to make the premium concrete blocks then train the customer's operator. With the proper raw materials and recipe, accurate operation, stored formula in Siemens control system, regular maintenance of the block machine, the QGM block machine should be able to make satisfactory concrete blocks.
6.Q:What payment is acceptable?
A:30% of contract value by T/T as advance payment; 70% of contract value by T/T or L/C before delivery.