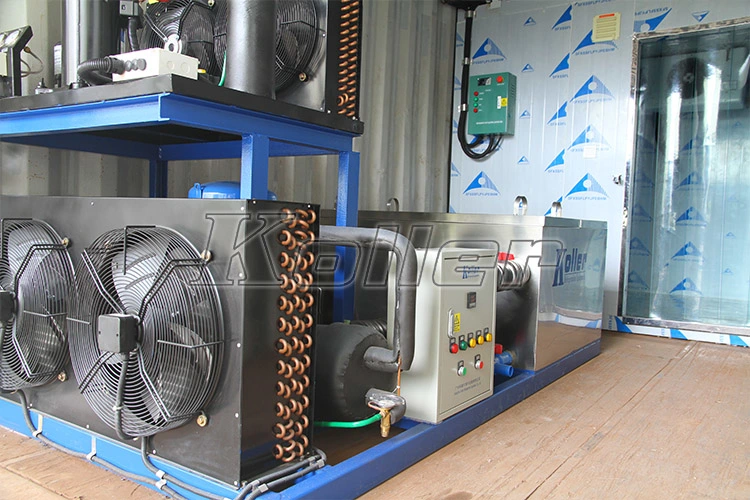 Containerized Ice Block Machine & Cold Room
1.1 tons ice block in 24hrs
2. Install ice block machine & cold room in container
Product Description
1. Special design for the Africa, Middle East and Oceania market, performance well in the hot environment;
2. Adopt stainless steel SUS304 for the salt water tank and ice moulds, no corrosion and low maintenance;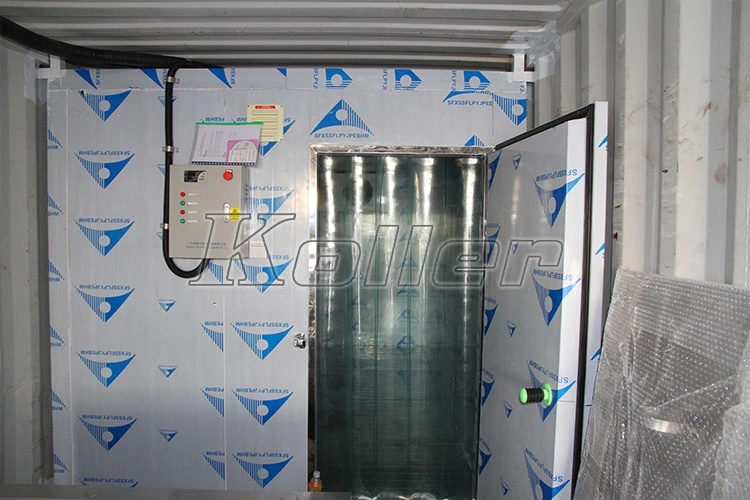 3. Reasonable and separated design for the structure, save space, easy to install;
4. All dimensions of ice block machine are designed according to international standard size of the container, very easy and convenient for transportation;
5. Ice block size: 5kg/piece, 10kg/piece;
6. Install according to the operation manual and CD, Supply failure alarming system, and no need worker to monitor.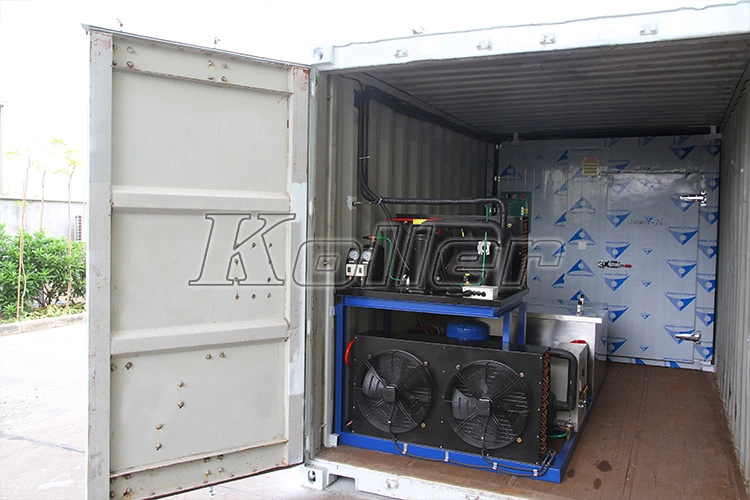 Specification for MB10 ice block machine:
Block ice machinery unit: 1600mm * 780mm*1530mm;
Water tank: 2446mm* 1380mm*870mm;
3. Supply Power Form: 380V, 50Hz, 3P or 220V, 60Hz, 3P.
4. Cooling System: Water cooled system, Air cooled system.
5. Installation: The machine has been installed and tested before delivery, only needs customer to connect water pipes and power, the accessory spared parts are offered free of charge.
6. Guarantee Period:
During 12 months after selling, maintenance and parts free of charge.
Model
Capacity
tons/24hours
Compressor Power (KW)
Compressor Brand
Total Power (KW)
Cooling way
Outer Dimension
MB10
1
4.5
Manevrop/Bitzer/
Refcomp
6
Air/water Cooling
Main unit and water tanK: 2820*1480*1040
MB20
2
8.1
Manevorp/Bitzer/
Refcomp
11
Air/water cooling
main unit: 1630*720*1530
Water Tank: 2300*1430*1090
MB30
3
11.1
Bitzer/Refcomp/
Copeland
14
Air/Water cooling
Main unit: 1660*860*1450
water tank: 2460*1550*970
MB40
4
17.2
Bitzer/Refcomp/
Copeland
22.5
water cooling
Main unit: 1630*730*1520
water tank: 4000*1356*900
MB50
5
22.1
Bitzer/Refcomp/
Copeland
31
water cooling
main unit: 1630*830*1520
water tank: 3700*1450*1100
MB60
6
23.5
Bitzer/Refcomp/
Copeland
32
water cooling
main unit: 1750*900*1700
water tank: 3100*1630*1420
MB80
8
31.4
Bitzer/Refcomp/
Copeland
45
water cooling
main unit: 2000*850*1300
water tank: 5200*1850*1100
MB100
10
44.2
Bitzer/Refcomp/
Copeland
58
water cooling
main unit: 2300*1750*1300
water tank: 6000*1750*1300
MB150
15
62.5
Bitzer/Refcomp/
Copeland
78
water cooling
main unit: 2300*1750*1300
water tank: 8000*2100*1200
MB200
20
84.6
Bitzer/Refcomp/
Copeland
96
water cooling
main unit: 2260*1350*1330
water tank: 9380*1770*1380
MB250
25
102
Bitzer/Refcomp/
Copeland/Hanbell
125
water cooling
main unit: 2300*1500*1680
water tank: (8250*1980*1350)*2
MB300
30
112
Bitzer/Refcomp/
Copeland/Hanbell
150
water cooling
main unit: 2260*1800*1480
water tank: (8770*1770*1125)*2
MB350
35
136
Bitzer/Refcomp/
Coepland/Hanbell
190
water cooling
main unit: 2260*1800*1480
water tank: (9000*2100*1200)*3
MB800
80
262
Bitzer/Refcomp
Copeland/Hanbell
251
water cooling
main unit: 5500*2000*2000
water tank: (11600*2080*1400)*3
MB1000
100
328
Bitzer/Refcomp
Copeland/Hanbell
390
water cooling
main unit: 5500*2000*2000
water tank: (10000*2080*1400)*4